Bringing immersive cinematic experiences to your home has never been easier thanks to XGIMI's range of set-up free projectors that allow you to hook up your media players with ease. 
Forget about having to clear out a lot of space either, as these short-throw projectors can produce stunningly large images without needing to be installed far from the screen or wall that you're using.
Even better, with Black Friday and Christmas fast approaching, these projectors are now at their lowest prices, making them a great choice for people who want to experience big-screen entertainment for less.
HORIZON Pro
For the ultimate cinematic experience, the HORIZON Pro is a must. Featuring true 4K technology and offering ultra-bright 2,200 ANSI lumens images, your movies, TV shows and games will look amazing.
With an advanced X-VUE 2.0 image engine with super-smooth motion, plus support for stunning HDR10 content, you'll be blown away by how vivid and life-like the footage you watch is. Plus, your games are going to look and feel phenomenal thanks to the dedicated low latency game mode in the projector.
The immersive home cinema experience doesn't end there, however, as the HORIZON Pro also packs room-filling audio thanks to its powerful Harman Kardon speakers which offer DTS-HD, DTS Studio Sound, Dolby Digital compatibility. Because you don't have to plug in any external speakers, the HORIZON Pro is extremely easy to use, with a 6-second boot and one touch setup that makes using this projector a breeze.
You don't even need to hook up any media sources, as it comes with Android TV which offers access to over 5,000 Google Play apps, including Amazon Prime Video and Disney+. You can also wirelessly stream movies and TV shows from your mobile devices thanks to its built-in Chromecast.
During Black Friday, the HORIZON Pro will have a 12% price cut, between November 26 – November 30, cutting the price to $1,499. Plus, the 1080p version will have a 15% discount, cutting the price to just $934, the lowest it's been all year. 
Elfin
Enjoy gorgeous content with the Elfin projector, which features up to 4K resolution that can be blown up to a massive 150-inches. With a 800 ANSI Lumens brightness, this is a projector that will look great both in the day and at night, and its Harman Kardon speakers offer incredibly rich and detailed DTS and Dolby audio.
Its Intelligent Screen Adaption (ISA) technology means this is an incredibly easy projector to set up, as it'll automatically focus the image and adjust the screen, and it can even identify and avoid any obstacles between the projector and the screen.
It also comes with Android TV 10.0, giving you quick access to some of the best media content out there from Hulu, HBO Max and more.
During the Black Friday sales event, which runs from November 26 to November 30,  the Elfin project will have a huge 20% price cut to just $519, the lowest of the year.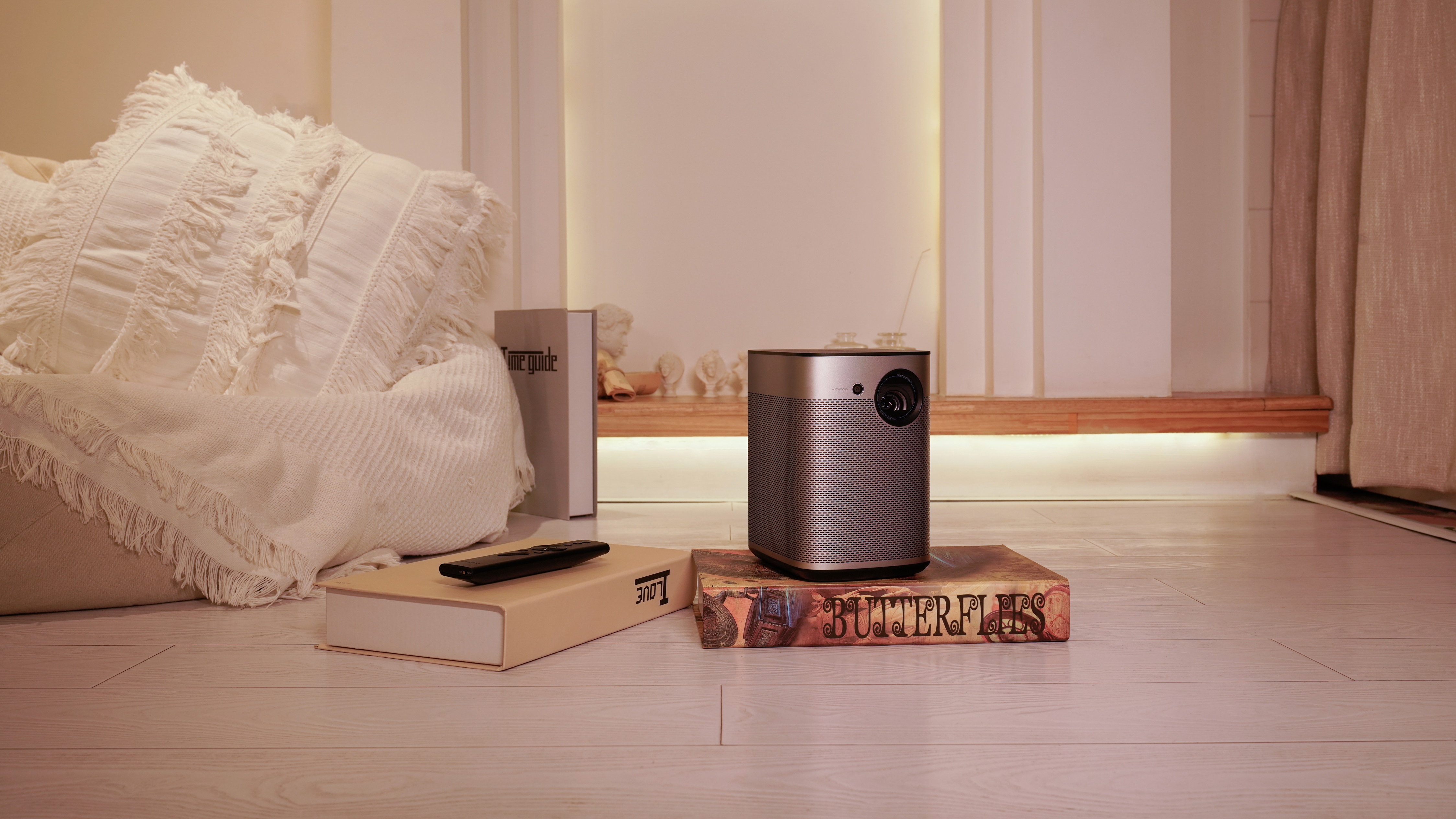 Halo
Watch stunning movies and TV shows no matter what time of day it is with the XGIMI Halo projector. With its 800 ANSI lumens brightness, this is a projector that will look amazing, regardless of the ambient light conditions you use it in. So, you don't have to worry about ending up squinting at the projected image while watching in bright sunlight. In fact, the image it provides is 225% clearer than mainstream 720p projectors.
It's also more versatile, as well, thanks to the built-in battery that allows you to watch movies and TV shows on a 150-inch screen for up to two hours, making it perfect for outdoor parties.The dual 5W Harman Kardon speakers offer excellent sound quality, and you can also wirelessly connect soundbar and Bluetooth headphones as well.
As with XGIMI's other projectors, setting up the Halo is incredibly simple thanks to automatic focus and four-point keystone correction that will ensure you get the best possible image quality, and with Android TV 9.0 built in, you can binge watch all your favorite TV shows whenever you want.
During Black Friday, the Halo will have a big 20% price cut to $639 between November 26 to November 30, the lowest price of the year.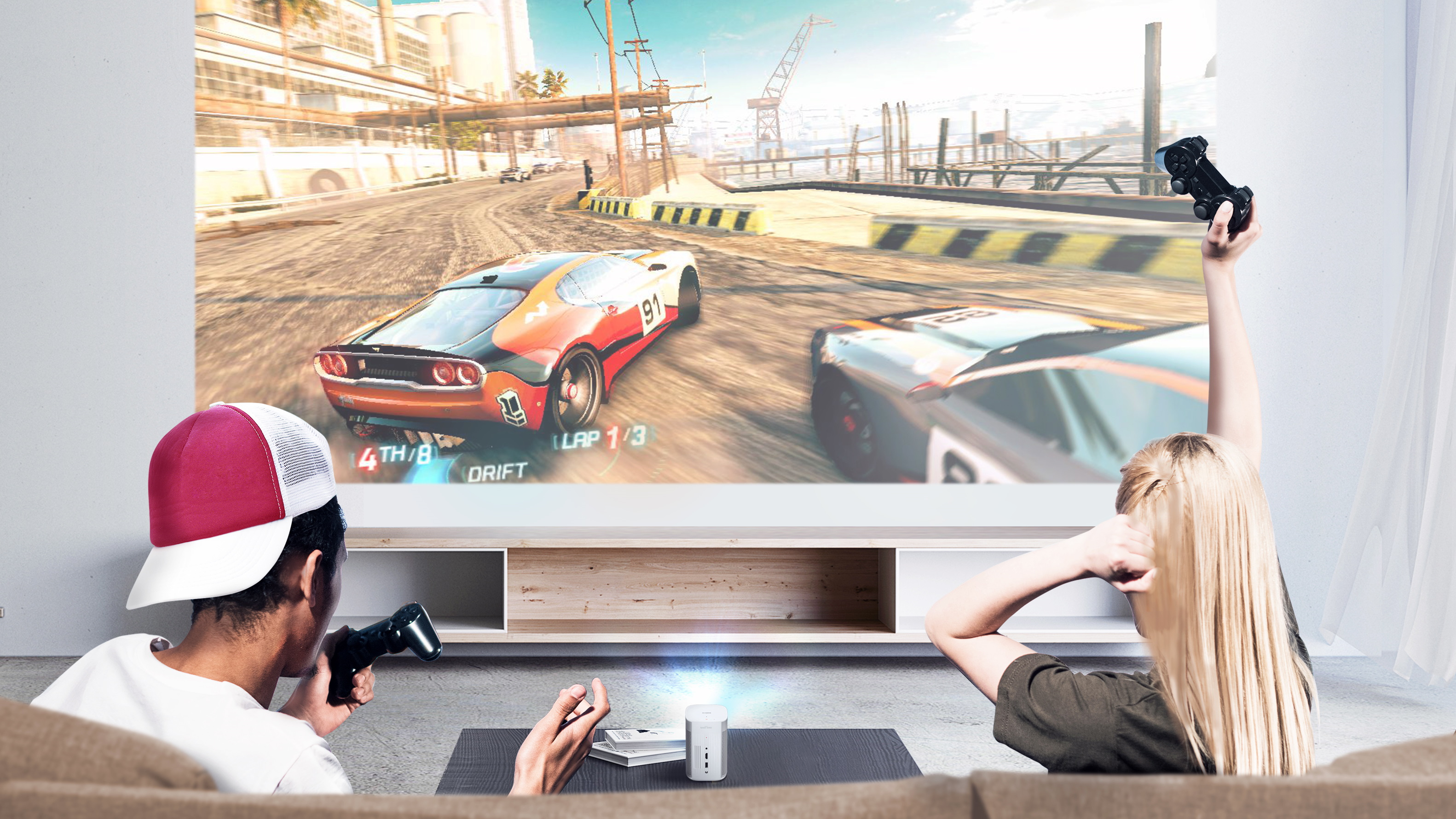 MoGo Pro and MoGo Pro+
If you want a portable projector that you can take anywhere to watch 1080p videos on, then the MoGo Pro and MoGo Pro+ are for you.
The MoGo Pro offers a 1080p image at 300 ANSI lumens thanks to its advanced lamp, offering you detailed and vivid pictures up to 100-inches.
Meanwhile, its built-in battery offers two hours of big screen entertainment, backed up by dual 3W Harman Kardon speakers. Android TV offers you thousands of apps from the biggest media companies, and auto-focus and four-point keystone correction makes this a cinch to set up.
Meanwhile, the MoGo Pro+ is the ultimate portable projector. Simply set it down, and it will adjust itself automatically to offer you the very best image quality, with a tiny adjustable stand and balanced sound, that will make it stand out wherever you use it. Its 300 ANSI lumens brightness outshines most of the competition at this price point, allowing you to view movies and TV shows in all their glory, no matter what light conditions you're using it in.
For Black Friday, the MoGo Pro gets a 20% discount to $399, the lowest price of the year, while the MoGo Pro+ gets 23% knocked off its price, down to $499, the lowest price of the year, between November 26 to November 30.